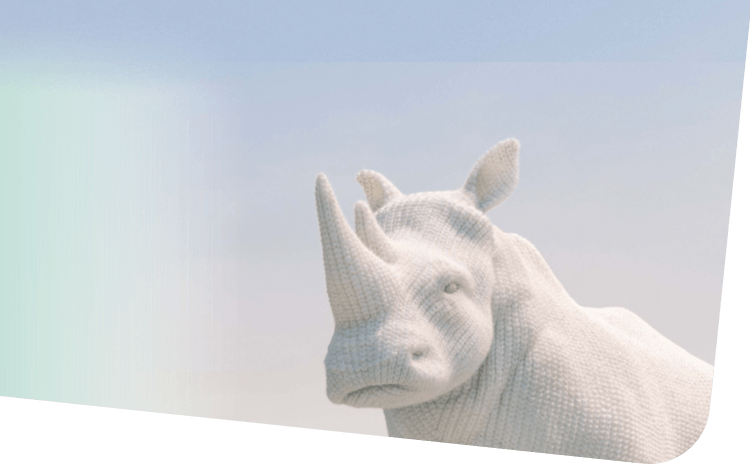 Powered to enable a response
LYTGOBI demonstrated an overall response rate (ORR) of 42% in patients with previously treated locally advanced or metastatic iCCA1
ORR: 42%
2.5 months median time to response
(range: 0.7-7.4)
The ORR for LYTGOBI was
42%
(95% CI: 32%, 52%)
Patients experienced a median duration of response (mDoR) of nearly 10 months with LYTGOBI1
Median DoR
9.7
Months
(95% CI: 7.6-17.1)
72%
of responders (n=31)
had responses that
lasted ≥6 months
14%
of responders (n=6)
had responses that
lasted ≥1 year
FOENIX-CCA2: Additional endpoints
LYTGOBI received accelerated approval from the FDA based on ORR and DoR in a single-arm study1
For this reason, a confirmatory phase 3 study in cholangiocarcinoma is underway1
Progression-free survival, overall survival, and disease control rate were prespecified secondary endpoints that were studied in FOENIX-CCA2 and that are not reflected in the full Prescribing Information2
Due to potential variability in the natural history of the disease, a single-arm study may not adequately characterize these time-to-event endpoints and the results may not be interpretable
This data presentation is neither intended to draw conclusions regarding the efficacy of LYTGOBI nor to imply that there is a treatment effect of LYTGOBI on these time-to-event endpoints and the results should be interpreted with caution
Progression-free survival (PFS)2,3
Kaplan-Meier estimate of PFS (N=103)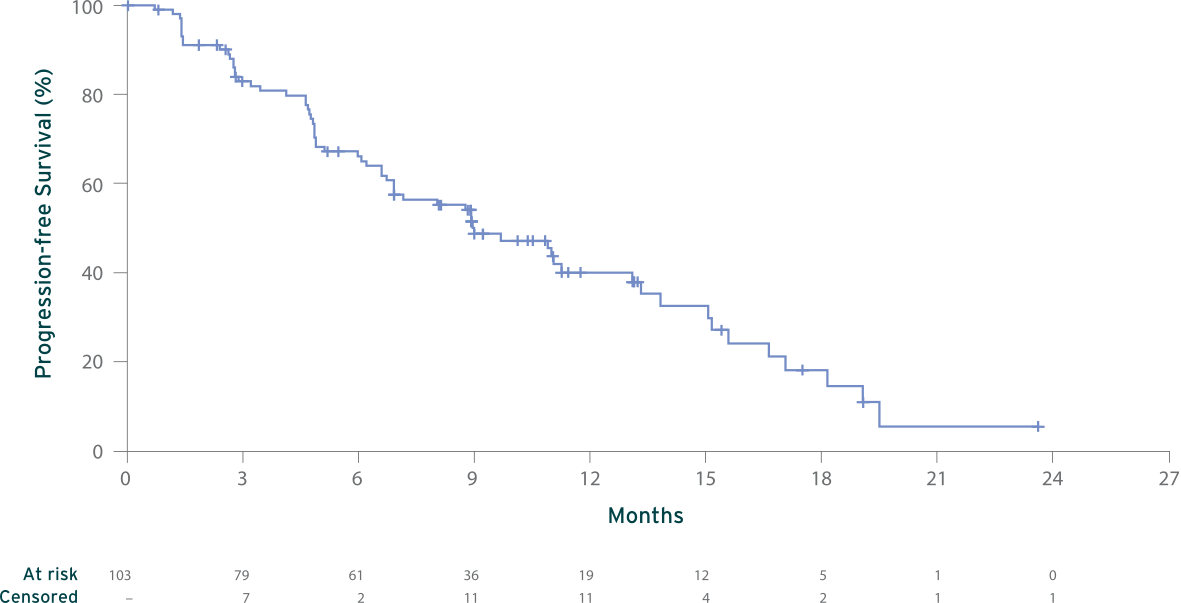 Median, 9.0 mo (95% CI: 6.9, 13.1)
Median follow-up at time of data cutoff was 17.1 months
Overall survival (OS)2,3
Kaplan-Meier estimate of OS (N=103)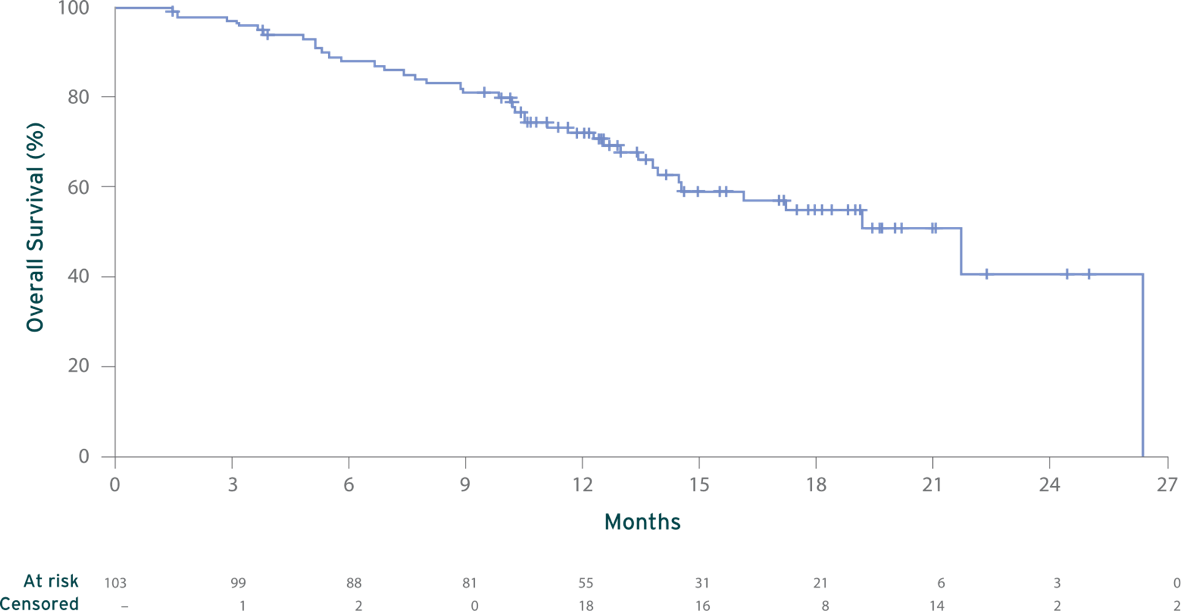 Median, 21.7 mo (95% CI: 14.5, Not Reached)
At the time of data cutoff: Median follow-up was 17.1 months; the OS data were not mature; 40 patients died. All patients had discontinued therapy prior to their death with the predominant reason for discontinuation being progression of disease in 90% of patients.2,3
Disease control rate (DCR) (n=85)2,3a
FOENIX-CCA2 was a single-arm study3

In this setting, the DCR results may reflect the natural history of cholangiocarcinoma in an individual patient, rather than the direct effect of treatment
*DCR is the sum of complete response, partial response, and stable disease.
Results observed in patient subgroup2
Additionally, this subgroup analysis was considered exploratory (i.e., hypothesis-generating) and did not control for Type 1 error (false positive rate); therefore, it is not possible to ascertain the probability that these findings were attributable to treatment with LYTGOBI
Supplementary results
Efficacy results at extended follow-up
At a nonprespecified follow-up analysis conducted 8 months after the primary analysis (data cutoff, May 29, 2021; median follow-up, 25.0 months), efficacy in the overall study population was maintained with2,4:
ORR of 41.7%
DCR of 82.5%
median DoR of 9.5 months
median PFS of 8.9 months
median OS of 20.0 months
The extended follow-up data were collected after the primary analysis and are descriptive in nature, and results should be interpreted with caution.
CI=confidence interval; DoR=duration of response; iCCA=intrahepatic cholangiocarcinoma; mo=months; PR=partial response.
References:
1.
LYTGOBI [package insert]. Princeton, NJ: Taiho Oncology, Inc.; 2022.
2.
Goyal L, Meric-Bernstam F, Hollebecque A, et al. Futibatinib for FGFR2-Rearranged Intrahepatic Cholangiocarcinoma. N Engl J Med. 2023;388(3):228-239.
3.
Goyal L, Meric-Bernstam F, Hollebecque A, et al. Primary results of phase 2 FOENIX-CCA2: the irreversible FGFR1–4 inhibitor futibatinib in intrahepatic cholangiocarcinoma with FGFR2 fusions/rearrangements. Abstract presented at: American Association for Cancer Research Annual Meeting; April 10-15, 2021, and May 17-21, 2021. Abstract CT010.
4.
Goyal L, Meric-Bernstam F, Hollebecque A, et al. Updated results of the FOENIX-CCA2 trial: Efficacy and safety of futibatinib in intrahepatic cholangiocarcinoma (iCCA) harboring FGFR2 fusions/rearrangements. Abstract presented at ASCO Annual Meeting 2022. Abstract 4009. J Clin Oncol. 2022;40(16 suppl).